Tomb Titivator
Posts: 770
Joined: Tuesday, 25th November 2014, 02:47
(split from
the black belt thread
)
Tasonir and I are playing through FF1 on an emulator at double speed. I'm using FCEUX, working pretty well. It has nice speed controls and screenshot functions.
Getting Started
I chose a FiFiFiRM party. You don't have quite enough gold for 4 chainmails, 4 rapiers, and the fire spell, so I had to farm up a bit to get my gear. Was still level 1 when garland threatened to knock me down, but went down in 2 rounds. That got me to level 2. The princess gives me a lute, the king builds a bridge, my redmage picks up slep and lit using garland gold and I am off to explore the world!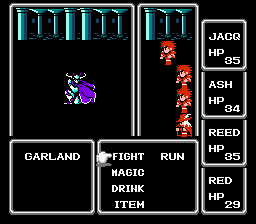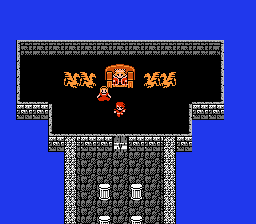 Mostly wolves on the way to provoka, and they give garbage xp and gold. I am still level 2 when I get to provoka and almost broke. I can afford 3 wood shields at 15g/each though, and a stop at the inn.
Pirates go down easilly, and Bikke offers up his ship. Pirate gold gets me ICE for my red mage, and xp takes me to level 3. Chart Course for Elfland!
I am not quite strong enough to make it to the marsh cave yet (i tried!) but getting part way there and fighting ogres is good gold. I hit level 4, buy 3 replacement iron shields 100g/ea, a cap 60g, and 3 wooden helms 80g/ea. I can afford 1 iron armor at 800g replacing a chainmail, and 3 sabres at 450/ea. The rest of my gold goes into ~10 pure potions, some used.
I embark for the cave at level 4. It is just a preliminary venture, getting the chests in the upstairs. Some gold, a useless large knife, and a short sword, which is slightly better than the sabre. Going back to town, I sell the knife and can afford the other two iron armors for my fighters, a cabin, a 10 heal potions, and 13 pure potions. At level 5, my fighters start getting 2 hits with the sabres, which is a huge upgrade. I hit lvl 6 on my trip to the marsh cave, and I think I am ready to take on the wizards guarding the crown.
My red mage has a lvl 3 spell charge, but I cannot afford lit2. I bought too many items. I'm going to take a crack at the marsh cave as I am, but if I die to wizards, I may have to farm up 1500g for the spell before I can get the crown.
---
For this message the author edgefigaro has received thanks: 4